2021 Mid-Autumn Festival
For this year's Mid-Autumn Festival, we chose Qianhu Hotel, located on the bank of Dongqian Lake. In keeping with the principal of note wasting the good autumn scenery, we chose to stroll the Dongqian Lake, on the French lawn, among the green cedar trees, feeling strong, and quietly emptying. Watching the sunset by Dongqian Lake is like watching a beautiful movie. And under the beautiful afterglow of the sunset, our evening party slowly kicked off.
Some people say that the beautiful yearning of the world is full of "round" romance, so we gather here. Before the start of the dinner, Fu Dong, first made a speech and expressed his ardent blessings to all the GongMei People. And the surprise of this year's party was realized for us by Chairman Li Li, who is far away in the UK. We opened a video letter, which is full of Li Dong's blessings to all of us beautiful working people. The blessings under the beautiful scenery are even more impressive. Feeling the weight of this heart, we also look forward to Li Dong's return as soon as possible.
At seven o'clock in the evening, the carnival officially began. I have to say that this is a group that can sing and dance. The "artists" who can sing and dance present a wonderful stage for everyone. The opening dance with a surprise solo session instantly caught everyone's attention, they put down the chopsticks and picked up their cameras without hesitation. In the program list, the appearance of the ethereal drum is eye-catching. Through the introduction of the host, I learned that the ethereal drum, one of our national instrumental music, is very suitable for cultivating sentiment and purifying the soul. During the performance, everyone was unconsciously immersed in it, as if reaching an extraordinary realm.
Playing games to win prizes must be the light of the audience. The three games prepared for this evening are all very enjoyable. Even if the facial expressions in the game become too rich, what does it matter? A heavy gift, great satisfaction!
Happy Mid-Autumn Festival!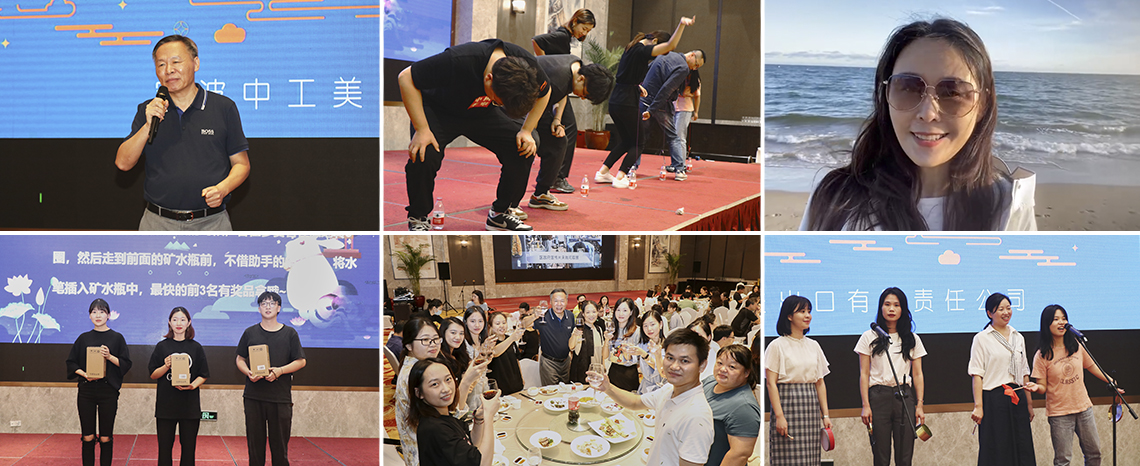 今年的中秋晚会,我们选择了位于东钱湖畔的钱湖宾馆。秉着不浪费秋日好光景的原则,我们选择漫步东钱湖,在法式大草坪上,碧绿杉树林间,浓烈的感受,安静的放空。在东钱湖边看日落,彷佛看了一场绝美的电影。而在绝美的落日余晖下,我们的晚会也缓缓拉开帷幕。
有人说,人间的美好向往都带着"圆"的浪漫,所以我们欢聚于此。在晚宴开始前,傅董首先登台讲话,向所有工美人表达了最热切的祝福。而今年晚会的惊喜是由远在英国的李锂董事长来为我们实现的,打开这封视频信件,里面饱含了李董对我们全体工美人的祝福,良辰美景之下的祝福更能让人感受到这份心意的重量,我们同样也遥盼李董早日归来。
晚上七点,狂欢正式开始。不得不说,这是一个能歌善舞的团体。能歌善舞的工美"艺术家们"为大家呈现出一个个精彩的舞台。自带惊喜solo环节的开场舞,瞬间抓住大家的眼球,毫不犹豫的放下筷子拿起了相机。节目单中,空灵鼓的出现着实让人眼前一亮。通过主持人的介绍得知作为我国民族器乐之一的空灵鼓,其音色非常适合陶冶情操,净化心灵。演奏中,大家都不自觉的沉浸其中,仿佛到达了一个非凡的境界。
玩游戏拿奖品,必须是全场之光。本次晚会准备的三个游戏都让人直呼过瘾,即使游戏中让人面部表情变得过于丰富,但这又有什么关系呢?沉甸甸的礼物,获得大大的满足!
祝大家中秋节快乐!